Just as ships and airplanes need to follow navigation guides in order to reach their destination, businesses in New Mexico need clear roadmaps that will take them to their goals. While strategies on how to increase the bottom line and how to support employee growth may already be in place, small and medium-sized businesses (SMBs) often overlook an important aspect: technology.
Technology plays a crucial role in the success of other business strategies, and without an IT roadmap, SMBs can lose sight of their targets and veer away from their destination. In some cases, they probably won't even know if they've arrived.
What is an IT roadmap?
An IT roadmap, also known as technology roadmap, is a document that communicates the plan for technology initiatives within the company. It details what technology solutions need to be implemented, gives the rationale for their implementation, and sets a date for deployment.
SMBs need a technology roadmap because it: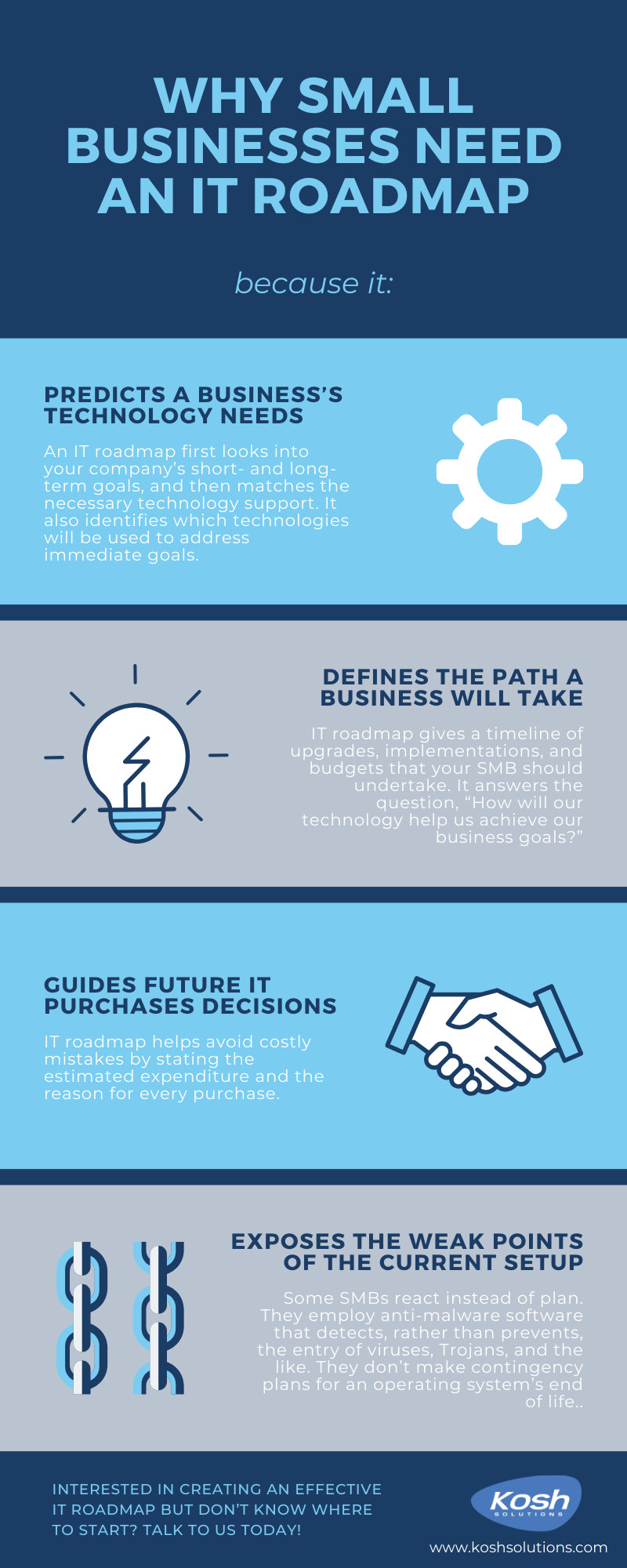 ✓ Predicts a business's technology needs
How do you visualize your SMB in three to five years? What technologies do you need to get there?
An IT roadmap first looks into your company's short- and long-term goals, and then matches the necessary technology support — such as equipment and applications — that will allow you to meet those goals. It also identifies which technologies will be used to address immediate goals, and which ones will be necessary for long-term goals.
✓ Defines the path a business will take
Apart from outlining critical technologies, an IT roadmap gives a timeline of upgrades, implementations, and budgets that your SMB should undertake. It answers the question, "How will our technology help us achieve our business goals?"
As such, each IT roadmap is unique. Yours will be a customized plan based on a number of factors, including the industry in which the SMB operates, its size, and its target market. The roadmap will also include the teams responsible for implementation. For example, technologies for compliance and security can be designated to IT staff (or outsourced to a managed IT services provider), while technologies supporting social media efforts can be monitored by the marketing department.
And similar to cars taking reroutes for faster travel or in order to avoid accident-prone areas, an IT roadmap can be modified based on potential improvements and changing needs.
✓ Guides future IT purchases decisions
Not all new technology will work for your business. With so many viable technologies to choose from, it can be difficult to choose one that will work best — and for SMBs with a limited budget, trial and error is simply not an option.
Not sure how how to set an IT roadmap?
Maybe it's time for a technology partner! Don't decide yet, though. Read through our FREE eBook first, 20 Signs That Your Business is Ready for Managed Services and find out if having an IT partner is the next step to your SMB's success.
An IT roadmap helps avoid costly mistakes by stating the estimated expenditure and the reason for every purchase. When unsure whether technologies such as Office 365 or disaster recovery services are for right you, simply consult the roadmap to see if they are aligned with your business priorities and objectives. This way, you only invest in technology that can truly impact operations.
✓ Exposes the weak points of the current setup
Some SMBs react instead of plan. They employ anti-malware software that detects, rather than prevents, the entry of viruses, Trojans, and the like. They don't make contingency plans for an operating system's end of life, leading to inevitable downtime and possible data loss. These are some vulnerable points in a company's current IT setup that a roadmap will uncover and address.
Among other things, a technology plan will take into account the necessary hardware and software upgrades, and how day-to-day processes can be streamlined to boost productivity and improve consumer experience.
Interested in creating an effective IT roadmap but don't know where to start? Let Kosh Solutions' IT support and consulting services provide you with expertise and guidance. Talk to us today — call 505-796-5988.
Like This Article?
Sign up below and once a month we'll send you a roundup
of our most popular posts
---