Let me get this straight, you are interviewing yourself?
Kind of. But I also asked Jessica to put together a few questions too. Don't go easy on me or anything. Ask the tough questions.
Alright, let's get into it then. I understand you know nothing about technology.
Whoa, okay. I know a few things, but my primary work at Kosh is non-technical.
If you don't have a technology background, what is your background?
I studied Music Composition and Theory in college. I taught music history in Thailand and then had a few entrepreneurial adventures: renovating houses, an export/import company, a cold brew coffee company, a coffee blog, and Music and English school.
I was in a rock band for about 7 years. In the name of "fun," here is a video of that time.
So, what do you do at Kosh?
I currently do a wide variety of tasks under the premise of improving Operations and developing Marketing. As of now, I answer the phones on the front lines, process administrative changes, monitor customer backups, write this newsletter, edit videos, and more.
How did you come to work at Kosh? I heard it was nepotism.
Geeze. Okay, maybe a little nepotism. Before Kosh, My wife and I sold our Music and English school in Bangkok and I went back to school for my MBA. My work with Kosh started with performing backup audits and just slowly grew from there. My title is Operations and Marketing Associate.
Do you think your relationship with the CEO makes your job easier or more difficult? Or both?
My brother is Travis Alsup, Kosh's CEO. I imagine it makes it easier in a lot of ways. Feeling comfortable talking with the person in charge helps. At times it can get a bit fuzzy, like switching from talking about family things, then to how we can improve something in Kosh. But overall, the experience has been great so far.
Do you have any stories about Travis you think the rest of the staff should know?
There is a video of him singing the classic 90s hit "Deep Deep Trouble" by Bart Simpson, sadly it is only in video cassette form. When he was in high school, to get pumped up for a hot date, he would sing "Come Out and Play" by The Offspring while globing blue gel in his hair.
Tell me a story.
Weird "question," but okay... February 1st, 2020, the day before we left to visit my family in the US, my wife, Lila, and I found out she was pregnant. No big deal, we will be back in a month, we thought. Our flight was rerouted around Wuhan because there was some virus. We hauled our two carryon bags and our 22-month-old son onto the plane and 47 short hours later, landed in El Paso. It was supposed to be a 1-month vacation, but the virus spread and grounded flights. Talk of me taking a full-time job with Kosh came up. Things fell into place, and we decided to leave everything in Thailand and stay in the US. Fast forward to September 10th and that February 1st surprise was born.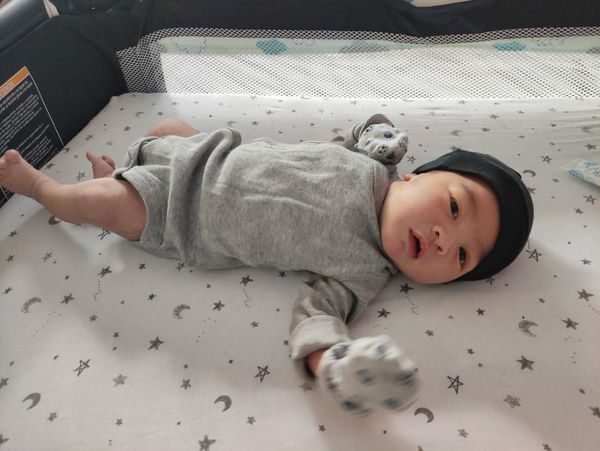 How long did you live in Thailand?
I lived there for about 11 years.
Why Thailand? 
After graduating from college, I explored graduate school in the US and just could not justify the cost - especially for a degree in music where job prospects are pretty bleak. I looked at options abroad and found a university in Bangkok that seemed like it would be a decent fit. Perhaps most importantly, the total cost of one semester in Thailand costs about the same as one semester of books in the US. So, I sent some emails and the University basically said, "Sure, come on over and take the entrance tests." With a one-way ticket and no acceptance letter, I flew over to that adventure.  
Best & worst thing about living there?
Probably the best part of living in Thailand is access to cheap and great food. Most street food is still about one to two dollars a plate. Also, easy access to some beautiful beaches.
The worst part is the unrelenting heat. Bangkok is the hottest city in the world! It doesn't have the highest temperatures, but it has the highest yearly average temp. 
If someone is visiting Thailand, what is the #1 thing you absolutely must do or see while there?
The easy answer is: Every person who visits Thailand must get a massage, go to the various markets, go to a couple of temples, and eat eat eat!
I think if you are young and looking to party, Bangkok nightlife or the famous Full-Moon parties on the islands are pretty intense.
If you are interested in ocean activities, the Similan islands or Koh Lipe are incredible.
If you are interested in getting out of the cities, head to northwest Thailand which has nice mountain scenery and some remote places to visit.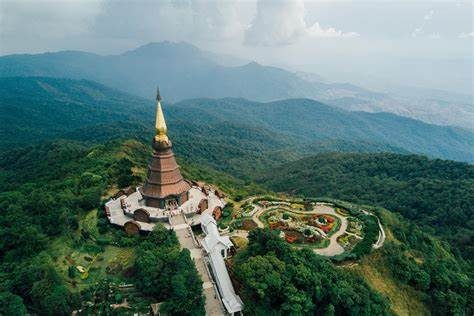 You were there a long time…why come back to the US?
Thoughts of leaving Thailand started taking shape after the birth of our first son, Ashur. Bangkok is a polluted city, traffic is insane, and Thailand's education system leaves a lot to be desired. So, we knew we wanted to move back to the US, we just didn't know it would be so quick!
Do you plan on moving back to Thailand?
If you ask my wife, she will probably say yes. It's very difficult to be split between two countries that are so far apart. I think the honest answer is, "I don't know if we will move back, but if we do, it will not be anytime soon."
The bookworms at Kosh happen to know you are a published author. Did you always want to be an author?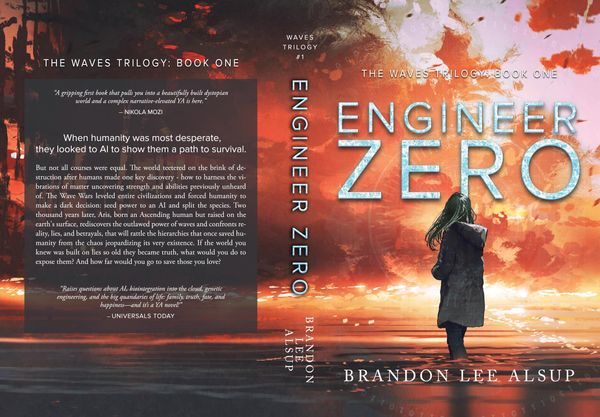 I have always enjoyed writing. Notoriously, even as a first-grader, I was a lengthy writer. Probably more accurate for me though is I need to be creative. Whether that is through writing, music, art, or, yes, even business. So, I did not always intend to be an author but, putting ideas on paper has always spoken me to. I get the chills when I think about someone's ideas moving through time to affect the people of a different age. 
Who has had the biggest impact on your own writing? (authors, mentors, etc)
It's kind of strange because the book I wrote does not necessarily reflect my influences. A few of my favorite fiction authors are Haruki Murakami, Gabriel Garcia Marquez, Mark Twain, Ernest Hemmingway, Ray Bradbury, Isaac Asimov, Kurt Vonnegut...and many more.
My "mentor" for writing the book was two or three really amazing websites that covered "how to write a novel."
How long did it take to write Engineer Zero? When is book two coming out? 🙂
It took me a long time to write, but I guess in the end it was much faster than not writing at all. It took me about 3.5 years from concept to available on Amazon.
Book two is pretty well laid out but it will probably not come out for a few years...two young kids are keeping me plenty busy.
Have you always been a fan of sci-fi? Is this going to be your chosen genre or do you think you'll branch out?
I have always liked sci-fi. It started by watching a lot of Star Trek and Star Wars with my family. But it wasn't until after college that I really started reading more sci-fi. I have many areas of interest, but story ideas that are sci-fi-ish or near-future speculative are most attractive to me.
Having now published a book, was the experience anything like what you imagined? Was there anything about the experience that surprised you?
The experience of self-publishing is gratifying in the fact that this huge project is complete, but also anti-climatic because it is pretty much just clicking a button to get the book on Amazon. Writing is a fairly solitary act so there is not that immediate reaction like you get when playing music.
I think part of the surprise has been talking with people that read the book and the experience they had with a world I built. I also didn't expect writing a book to be so difficult, I have a lot of respect for anyone who can drum up enough energy to write a book.
You were right about being lengthy, let's wrap this up. Any final words?

"Whatever it is you're seeking won't come in the form you're expecting."
― Haruki Marukami